Tooth Wear / Bruxism
Enamel is the hardest substance in the human body. As we age enamel is lost slowly and never replaced. Excess loss can lead to devastating problems. This is usually a non painful condition that patients are unaware of.
Tooth surface loss can be due to the following:
Bruxism (tooth wear)
Abfraction
Abrasion
Erosion
Tooth grinding
Tooth brushing
Acidic attack
Bruxism (also called Attrition is tooth wear from grinding).
Normal biting forces between the teeth when biting are about 20 lbs. Teeth usually contact top to bottom thousands of times each day with forces of about 0.5 lbs without biting. Teeth can usually cope well with this. However Tooth grinding can result in abnormal forces of about 250 lbs on each tooth. More than 10 times normal force.
Patients are nearly always unaware that they are grinding their teeth as they have been doing it for such a long time.
Tooth-to-tooth clenching and grinding is a common sign of psychological stress that occurs, for example, during sleep. Unless there are symptoms, many people are often totally unaware they grind their teeth until it is pointed out to them by a dentist.
Bruxism (Grinding) problems.
Small / worn teeth
Abfraction
Sensitivity
Fractured or cracked teeth.
Broken fillings
Incorrect jaw position.
Muscular and joint pain
Loss of facial height
Bruxism / Abfraction Prevention and treatment
Monitor wear rate with photos and models
Correction of incorrect bite
Reconstruct damaged teeth
Wear of a professionally fitted bite guard during sleep or stressful times
Abrasion
Abrasion is the loss of tooth surface by mechanical means – usually incorrect tooth brushing.
Abrasion prevention and treatment
Correct tooth brushing technique
A hard toothbrush should be avoided.
Use Fluoride tooth pastes and mouth washes.
Low abrasive tooth pastes.
Protect vulnerable areas with composite resin sealant.
Erosion
Erosion is the loss of enamel from an acidic diet. E.g. The frequent consumption of fizzy drinks.
This can also be a problem for individuals with acid reflux and other eating disorders (e.g., anorexia, bulimia). Individuals with reduced saliva or dry mouths are also highly at risk.
Erosion Prevention and treatment
Reduce the frequency of drinking carbonated drinks and fruit juices.
Avoid acidic salad dressings, lemons and excess fruit.
Tooth brushing should be avoided immediately after consuming acidic drinks and foods for 20 minutes
Use Fluoride tooth pastes and mouth washes
Protection of areas vulnerable to erosion.
When is treatment required?
There are various levels of tooth wear and the extent of treatment is determined following a clinical examination and assessment. Treatment can range from some simple preventative advice to rebuilding the whole dentition.
Treatment is determined by age, condition of teeth and extent of the problem.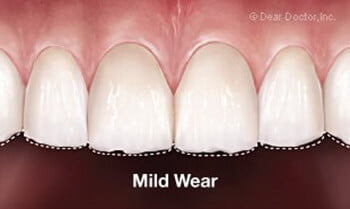 Mild wear
Thinning and loss of the enamel surface with minor chips.
---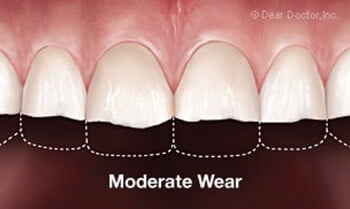 Moderate wear
Significant shortening of the front teeth with loss of facial height (And a consequent characteristic appearance of aging)
---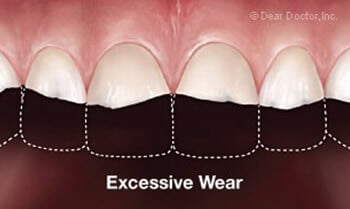 Excessive wear
Advanced tooth shortening and flat aged teeth.
---
Following correction of a tooth grinding habit and a temporary period (3 years ) with composite build ups this case was restored with ceramics.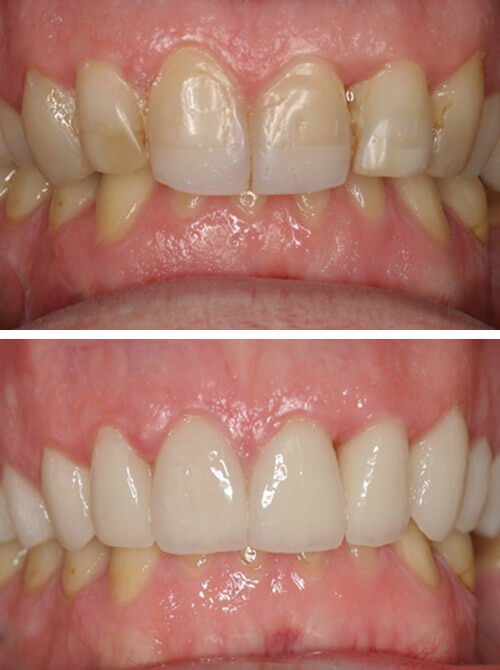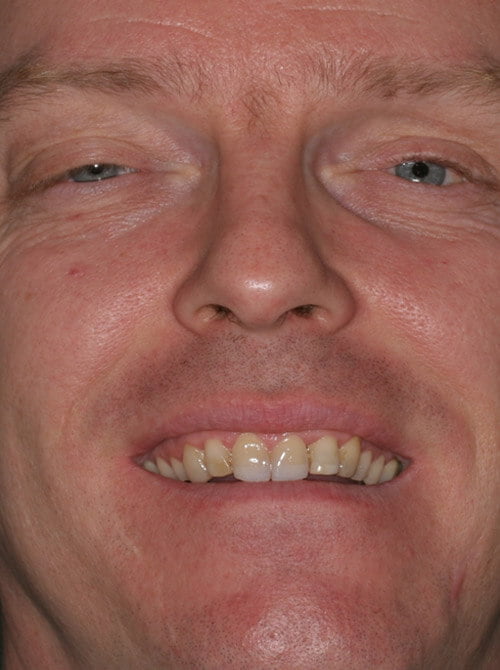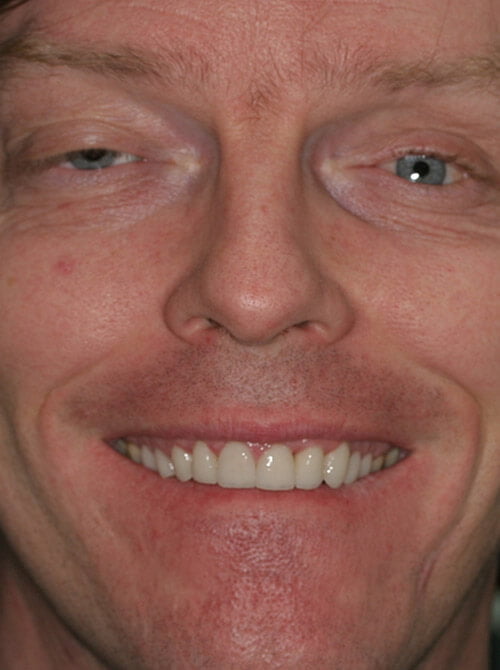 A severe case of tooth wear reconstructed with ceramics and acrylic dentures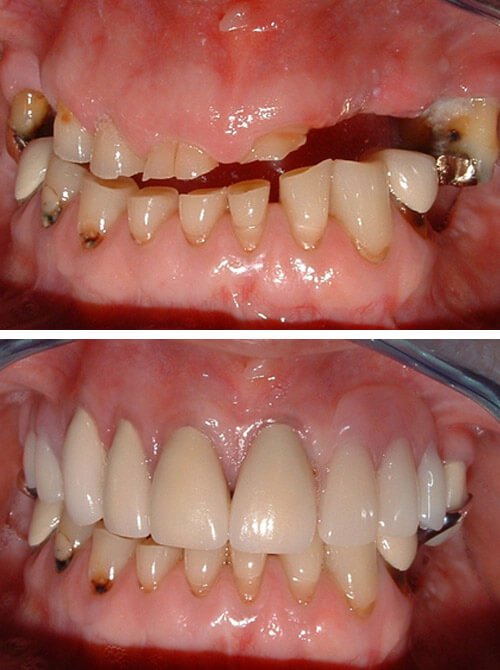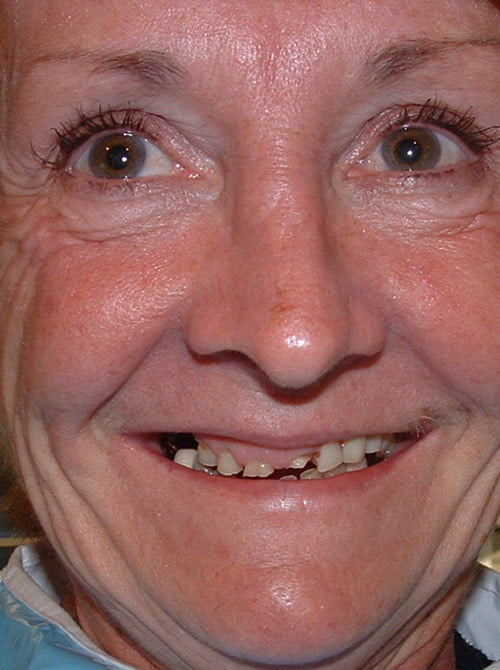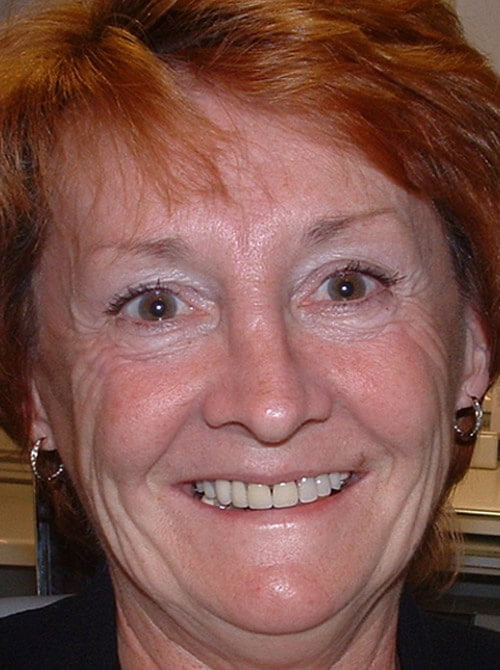 A moderate case of tooth wear showing the stages of reconstruction
Tooth Surface loss due to abrasion
Abrasion defects from smokers tooth paste.
Minor tooth wear from grinding.
Substantial tooth loss due to grinding.
Excessive tooth wear due to bruxism